About Us
Thirty-One Gives
Learn more about Thirty-One Gives from Cindy Monroe, the Founder and CEO of Thirty-One Gifts.
In February 2012, Thirty-One Gives launched to help Thirty-One Gifts pay back the many blessings we've received as a company. We are dedicated to three key pieces of our heart - girls, women and families. Since 2012, Gives has donated over $80 million in product and cash and touched 8.5 million lives.
We're proud partners with several nonprofit organizations that align with our mission, and we offer our support to these organizations in a number of ways, including product donations, Consultant giving, Home Office community partnerships and the Thirty-One Gives Fund.
All of this woven together is the fabric that makes us who we are - and it's our collective efforts that will change the world for HER.
In September 2013, Thirty-One Gives launched in Canada. Our Canadian Customers can Round Up! their orders to support our mission and shop Gives in the Canadian Catalogue through the U R U Collection, Ronald McDonald House Charities® exclusive product, or Thirty-One Gives Care Ribbons.
Our Mission
We have a passion for serving and supporting girls, women and families. We believe strong, confident girls will grow up to become strong, compassionate women, who will be the driving force behind strong, healthy families and communities. Our mission is to celebrate others for who they are, giving them the support and self-esteem needed to lead a purposeful, thriving life. When we all work together and give a little piece of our heart, we can make a huge difference.
For more information please visit our FAQs.
Thirty-One Gives Care Council (U.S. Only)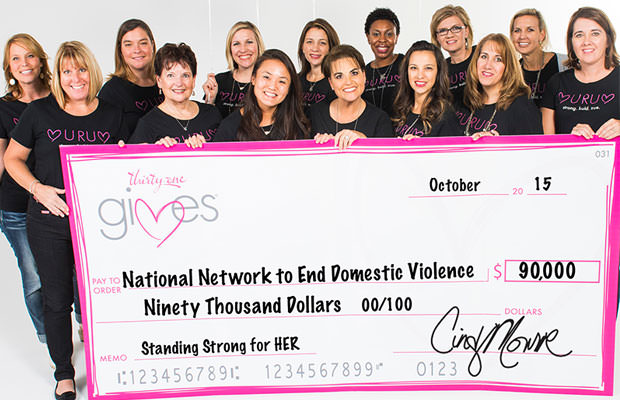 The Thirty-One Gives Care Council was created to serve as the voice of all Consultants in selecting national nonprofit partners and determining how to allocate contributions made through U R U Collection sales and Gives Round Up!
Gives Care Council Members
Cherie Rodriguez, National Executive Director, Florida
Karen Davis, Senior Executive Director, Kansas
Christina Rupracht, Senior Executive Director, New York
Jenni Abbott, Senior Executive Director, North Carolina
Kaine Story, Senior Executive Director, Alabama
Carrie Martin, Senior Executive Director, Indiana
Amy Davenport, Executive Director, Virginia
Heather Deshayes, Executive Director, Missouri
Jackie Docken, Executive Director, California
Vanessa Brown Executive Director, Massachusetts
Tammy Pulsifer, Senior Director, Florida
Kia Young Senior Director, North Carolina
Sharon Lamvik, Senior Director, Oregon
Tara Steinhorst, Director, Wisconsin
Autumn Beam, Director, Texas