Cindy Monroe Values & Vision Scholarship
Celebrating Girls who take pride in leading by example
The Cindy Monroe Values & Vision Endowed Scholarship will honor a girl in the Chattanooga, Tenn., community where Thirty-One Gifts Founder, President & CEO Cindy Monroe was born and raised, and where her company was founded. The recipient will be a girl who embodies Cindy's core values of building relationships, exhibiting leadership and displaying a passion for community involvement. She will receive an annual $3,100 scholarship for four years, totaling $12,400 to support her college career.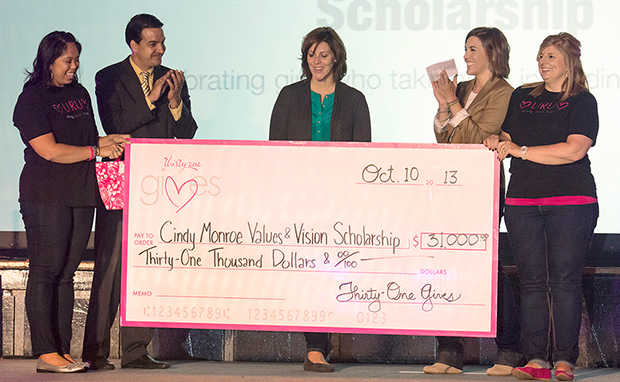 Application Deadline: March 1, 2016 (Applicants will be notified by May 1, 2016)

Learn more about the Scholarship and review short response questions

See the 2014 Scholarship recipient
The Cindy Monroe Values & Vision Endowed Scholarship will be awarded annually to a girl in the greater Chattanooga area who shares Cindy's passion for dreaming big and helping others.
This scholarship will be awarded based on the following criteria:
A girl who is a high school junior or senior from any public or private school located in Hamilton County, TN.
Applicant must maintain a GPA of 3.0 or better (based on a 4.0 scale) or its equivalent while in high school.
Applicant must plan to attend an accredited two- or four-year U.S. college or university as a full-time student beginning in the summer or fall immediately following high school graduation.
Click here to apply for the Cindy Monroe Values & Vision Scholarship